Business formals for women refer to a professional dress code typically observed in corporate environments and formal business settings. The way women dress in these contexts conveys a sense of professionalism, competence, and respectability. Adhering to appropriate business formal attire helps create a positive impression and fosters a sense of confidence and credibility.
Business formals for women often require adherence to certain guidelines and expectations regarding clothing choices, grooming, and accessories. While the specifics may vary across industries and organizations, some common elements characterize this dress code. These include tailored suits, blazers, dress pants, skirts, blouses, and dresses that convey a polished and sophisticated look.
Understanding the nuances of business formals involves considering factors such as the organization's culture, the industry's standards, and the occasion or event. It is essential to balance professionalism and personal style to create a professional yet individualistic appearance.
This guide provides valuable information and tips on business formal attire for women, including suitable clothing options, styling advice, and considerations for accessories and grooming. By following these guidelines, women can present themselves confidently and appropriately in formal business settings while reflecting their brand and professionalism.
Must-Have Business Attire for Women: Blazers, Pantsuits and More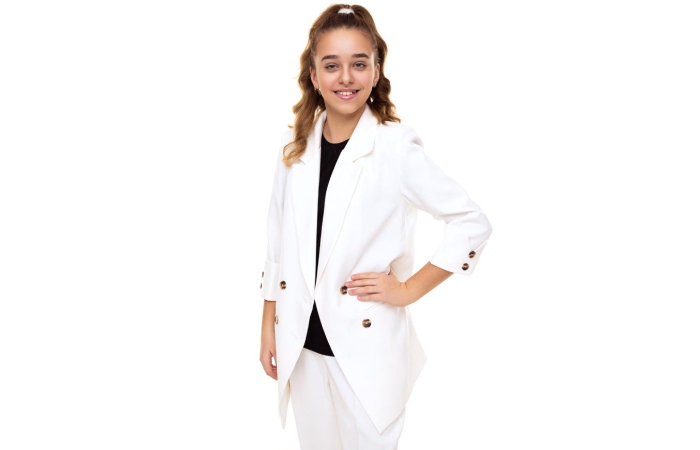 Regarding must-have business attire for women, several key pieces form the foundation of a professional wardrobe. Here are some essential items to consider:
Blazers
Pantsuits
Dress Pants
Skirts
Dresses
Button-Up Shirts
Blouses
Dress Shoes
Accessories
Always adhere to your company's dress code and consider the industry norms when selecting your business attire. Pay attention to fit, quality, and professionalism in your clothing choices. With these essential pieces in your wardrobe, you'll be well-prepared to create stylish and sophisticated formal business outfits.
How to Style Your Professional Business Look
Styling your professional business look involves combining different elements to create a polished and put-together ensemble. Here are some tips to help you style your professional business outfits effectively:
Opt for Tailored Clothing
Stick to Classic Colors
Coordinate Separates
Pay Attention to Details
Embrace Accessories
Mind Your Shoes
Maintain a Polished Appearance
Consider the Occasion
Confidence Is Key
Remember, it's important to adhere to your company's dress code guidelines and consider the norms of your industry. While expressing your style is valuable, it's essential to balance professionalism and individuality in a professional business setting.
Best Places to Shop for Business Clothing in the US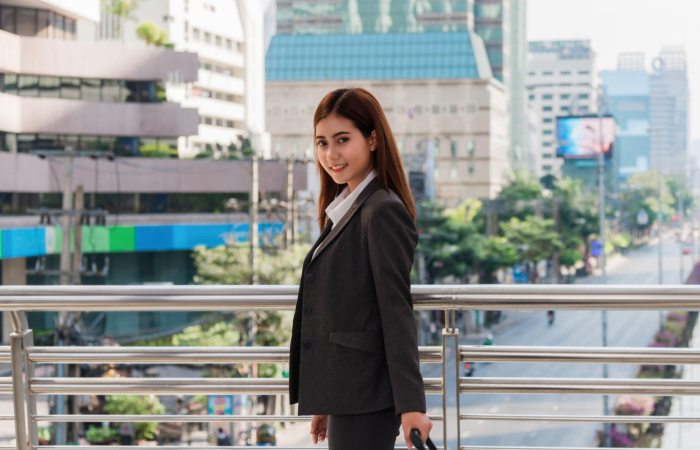 There are several reputable places in the United States where you can find a wide selection of business clothing suitable for professional settings. Here are some popular options:
Department Stores
Speciality Retailers
Online Retailers
Professional Attire Brands
Outlet Stores
Local Boutiques
Online Styling Services
Remember to consider your budget, personal style, and the specific requirements of your workplace when choosing where to shop for business clothing. Additionally, watch for sales, promotions, and loyalty programs to help you save money while building your professional wardrobe.
Common Business Fashion Faux Pas to Avoid
Regarding business fashion, presenting yourself professionally and avoiding common faux pas that may undermine your credibility is important. Here are some common mistakes to avoid:
Inappropriate Attire
Ill-Fitting Clothing
Over Accessorizing
Inappropriate Footwear
Visible Undergarments
Wrinkled Clothing
Heavy Perfume or Cologne
Unkempt Grooming
Ignoring Dress Code Guidelines
Overlooking Overall Neatness
By avoiding these common fashion mistakes, you can ensure that your business attire reflects your professionalism, competence, and respect for the workplace environment. Always dress appropriately for the occasion and adhere to your organization's specific guidelines.
Business Casual vs. Business Professional: Know the Difference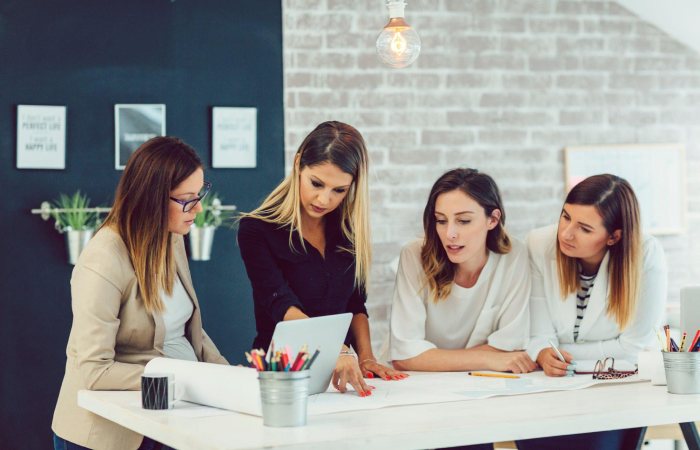 Understanding the difference between business casual and business professional attire is important for women to dress appropriately for various work environments. Here's a breakdown of each dress code:
Business Casual for Women:
Business casual attire allows for a more relaxed and comfortable style while maintaining a professional appearance. It is commonly seen in industries or workplaces with a more laid-back or creative atmosphere.
Here are some key characteristics of business casual for women:
Tops: Blouses, button-up shirts, sweaters, and tailored knit tops are appropriate. They can be in various colours and patterns, but avoiding overly casual or revealing tops is best.
Bottoms: Dress pants, khakis, chinos, skirts, or dresses are suitable for business casual. Skirts and dresses should be appropriate (usually knee-length or slightly above) and not too tight or revealing.
Jackets/Blazers: While not always necessary, add a blazer or a cardigan to your outfit for a more polished look.
Footwear: Closed-toe shoes are still recommended, but you have more flexibility. Options include flats, loafers, low heels, or dressy sandals (depending on the workplace).
Accessories: Add accessories such as scarves, belts, and understated jewellery to complement your outfit.
Business Professional for Women:
Business professional attire is more formal and traditional, often required in corporate environments, professional settings, or for important business meetings. It conveys a high level of professionalism and sophistication.
Here are some key characteristics of business professionals for women:
Suits: Matching tailored suits with blazers and pants or skirts are common in professional business attire. Opt for conservative colours like black, navy, or grey.
Dresses: Well-tailored dresses in conservative styles and lengths (usually knee-length or slightly below) can also be worn in professional business settings.
Tops: Blouses and button-up shirts in more traditional fabrics are appropriate. They should be conservative, with modest necklines and appropriate sleeve lengths.
Bottoms: Dress pants in conservative cuts and colours are ideal. Skirts should be knee-length or slightly below and not too tight.
Footwear: Closed-toe shoes with moderate heels or flats are typically preferred. Opt for polished and professional-looking shoes.
Accessories: Keep accessories minimal and understated. Classic jewellery pieces and a professional-looking handbag or briefcase are suitable.
Remember, the specific dress code expectations can vary depending on the industry, company culture, and the nature of the event or occasion. It's always best to check your company's dress code policy or ask for clarification if you are unsure about what is appropriate.
Conclusion
Dressing appropriately in the workplace is crucial for projecting professionalism and making a positive impression on women. Whether it's business casual or professional attire, understanding and adhering to the dress code demonstrates your respect for the work environment and enhances your credibility.