A RACI chart has long been a popular tool among project managers worldwide. Also known as a RACI matrix, it is used to clarify the roles and responsibilities of employees for each task, milestone, and decision that takes place during a project.
The diagram ensures clear communication and smooth workflows across all team parts. RACI charts can help avoid that bad feeling when key decision-makers find themselves at the end of a project and complicate things by making many changes because they weren't consulted throughout the project.
A RACI chart (sometimes called a responsibility assignment matrix) identifies the roles and responsibilities of project teams for each project task, milestone, or deliverable. By following the RACI acronym, you can clarify responsibilities and avoid confusion.
What is a RACI Chart?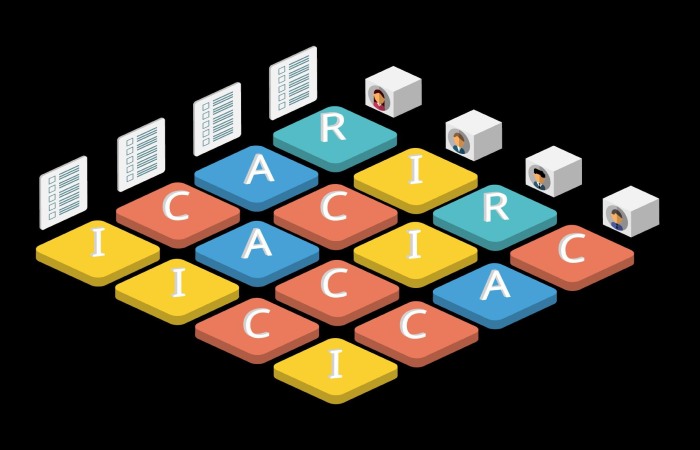 A RACI Chart, also known as a RACI matrix or RACI model, is a diagram that identifies key user roles and responsibilities for essential tasks within a project. RACI diagrams serve as a visual representation of the functional role each person plays on a project team. Creating these graphs is also a great exercise in balancing the workload and establishing who makes the decisions.
Gartner states, "Many important organizational initiatives begin without agreement on decision-making authority. This oversight often becomes a painful discovery process, causing unnecessary anxiety and frustration" (full report available only to Gartner clients). Beginning the work of a project by creating a RACI diagram is one of the best ways to eliminate this painful discovery process.
Brief Introduction to Each Role in A RACI Chart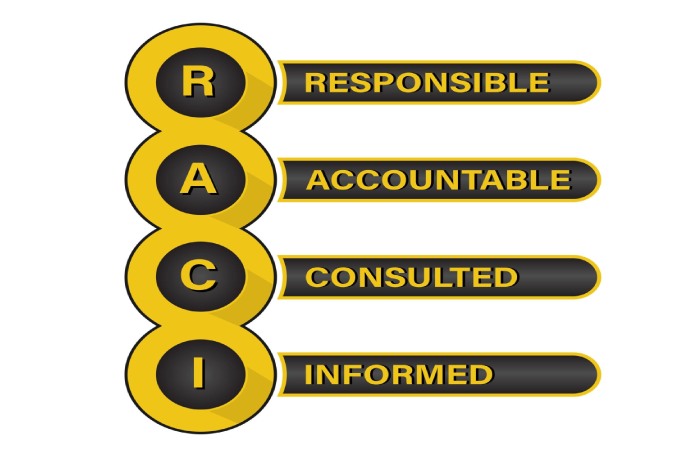 A RACI chart, or a RACI matrix or responsibility assignment matrix, is a visual tool used to define and communicate roles and responsibilities within a project, process, or organization. The abbreviation RACI stands for Responsible, Accountable, Consulted, and Informed, the four key roles in any given task or decision.
Responsible (R)
The person or people who are responsible for performing the task or activity. They are the individuals directly involved in executing the work and ensuring its completion.
Accountable (A)
The person who is ultimately accountable for the task or decision. This role ensures the work gets done and meets the desired outcome. There should be only one person assigned as responsible for each job.
Consulted (C)
Individuals or stakeholders must provide input or expertise before a decision or task is made. These individuals are consulted for their opinions, insights, or advice but are not directly responsible for the task.
Informed (I)
Individuals or stakeholders must be informed about a task or decision's progress, status, or outcomes. They are typically not actively involved in the task or decision-making process but should be aware of the results.
Using a RACI chart, you can clarify roles and responsibilities, establish clear communication channels, and avoid confusion or gaps in accountability. It helps ensure that everyone understands their involvement in a project or process.
How to Create a RACI Chart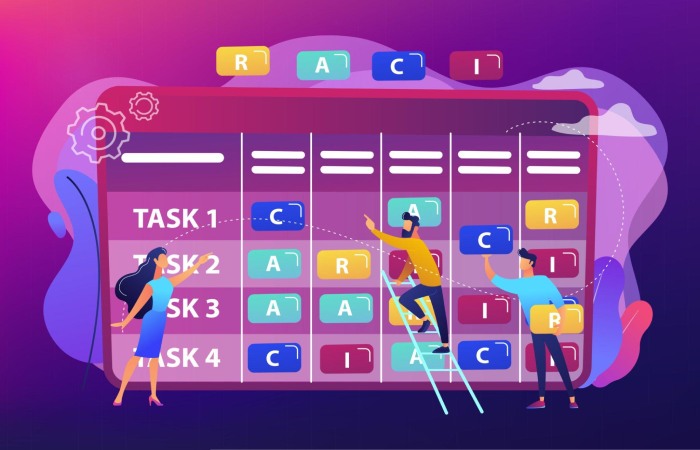 To create a RACI chart, follow these steps:
Identify the tasks or activities: List all the functions or activities needed for your project or process. Break them down into manageable and specific actions.
Determine the stakeholders: Identify all the individuals or groups involved or impacted by the tasks. This may include team members, managers, departments, external stakeholders, or clients.
Assign RACI roles: For each task or activity, determine the appropriate RACI roles for the stakeholders involved. Consider their responsibilities, expertise, and level of involvement. Remember that only one person should assign as accountable (A) for each task.
Create the RACI chart: Draw a matrix with the tasks listed along the left-hand side and the stakeholders listed along the top. Leave enough space to fill in the RACI roles within each cell.
Fill in the RACI roles: Start filling in the matrix by assigning the appropriate R, A, C, or I to each stakeholder for each task. Use "R" for responsible, "A" for accountable, "C" for consulted, and "I" for informed.
Review and validate: Double-check the RACI assignments to ensure accuracy and clarity. Please review the chart with the stakeholders to gather their feedback and make necessary adjustments.
Communicate and implement: Once the RACI chart is finalized, share it with the relevant stakeholders. Confirm that everybody knows their roles and responsibilities as outlined in the chart. Use the RACI chart as a reference throughout the project or process to facilitate effective collaboration and decision-making.
Remember, a RACI chart is a dynamic tool that may require updates as the project progresses or when roles change. Regularly review and revise the chart to maintain its relevance and effectiveness.
When Should You Use a RACI Matrix?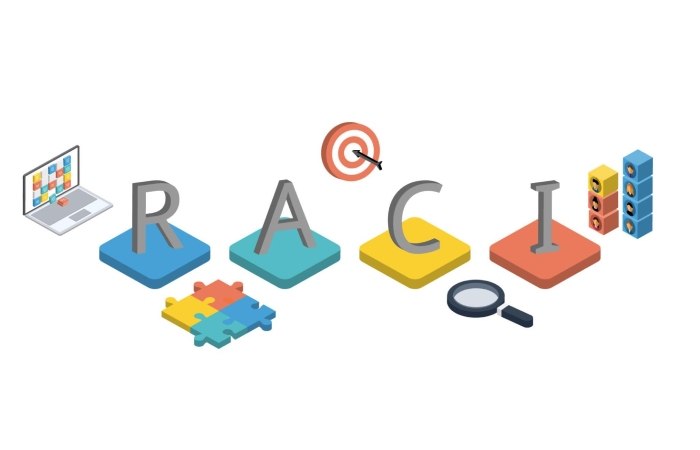 A RACI matrix can use in various situations where there is a need to clarify roles and responsibilities within a project, process, or organizational structure. Here are some common scenarios where a RACI matrix can be beneficial:
Project management: RACI matrices are widely used in project management to define and communicate roles within project teams. They help ensure everyone understands their responsibilities and the project's overall structure, promoting efficiency and accountability.
Process improvement: When analyzing and improving business processes, a RACI matrix can identify bottlenecks, gaps in accountability, or areas of confusion. It helps streamline processes by clearly assigning roles and improving coordination and communication.
Cross-functional or interdepartmental projects: In complex projects involving multiple departments or stakeholders, a RACI matrix can be valuable for establishing collaboration and clarifying the involvement of each team or department. It helps prevent duplication of efforts, conflicts, and gaps in responsibility.
Change management: During organizational changes or initiatives, such as restructuring, system implementations, or policy updates, a RACI matrix helps define the roles and responsibilities of individuals or teams involved in managing the change. It ensures everyone understands their role in the change process and facilitates effective decision-making.
Stakeholder management: A RACI matrix can assist in identifying key stakeholders and determining their level of involvement in decision-making or consultation processes. It ensures stakeholders are appropriately engaged and informed throughout the project or process.
Training and onboarding: When bringing new team members on board, a RACI matrix can be a reference tool to communicate their roles and responsibilities within the team or organization. It helps newcomers understand their position and the expectations associated with their function.
Using a RACI matrix in these scenarios can improve clarity, accountability, and collaboration among team members and stakeholders. It visually represents roles and responsibilities, promoting effective communication and efficient project or process execution.
Pros and Cons of RACI
RACI is a project management tool that helps to define roles and responsibilities for tasks and projects. It is a simple and effective way to confirm everyone knows who is responsible for what and that no one is left out of the loop.
Pros:
Clearly defines roles and responsibilities: RACI clarifies who is responsible for each task, who needs to consult, who needs to inform, and who is accountable for the overall project. This can help avoid confusion and ensure everyone is on the same page.
Improves communication: RACI can help to enhance communication between team members by clarifying who needs to know what and when. This can help prevent misunderstandings and ensure everyone is kept in the loop.
Increases accountability: RACI can help to increase accountability by making it clear who is responsible for each task. This can help to confirm that tasks are completed on time and to the required standard.
Cons:
Can be time-consuming to create: RACI charts can be time-consuming to develop, especially for large or complex projects.
Not suitable for all projects: RACI may not be ideal, especially those highly creative or requiring much flexibility.
Can be rigid: RACI can be a bit strict, and it may not be able to adapt to changes in the project or the team.
Overall, RACI is a helpful project management tool that can help to improve communication, clarify roles and responsibilities, and increase accountability. However, it is essential to use it wisely and to be aware of its limitations.
RACI Matrix Alternatives
RACI is a popular project management tool but not the only one. There are several alternatives to RACI, each with its strengths and weaknesses.
RASCI
RASCI is a variation of RACI that adds a "Support" role. This role supports the "Responsible" position, but they do not have any decision-making authority.
DACI
DACI is another variation of RACI that adds a "Decision-Maker" role. This role is responsible for deciding on a task or project.
PACSI
PACSI is a more complex RACI matrix alternative that adds a "Control" role and a "Suggest" role. The "Control" role has the authority to veto the decisions of the "Decision-Maker" role, while the "Suggest" role can provide non-binding advice.
ARPA
ARPA is a RACI matrix alternative that focuses on leadership. It has four roles: Accountable, Responsible, Participant, and Advisor. The "Accountable" role is responsible for the project's overall success, while the "Responsible" function is responsible for completing specific tasks. The "Participant" role allocates time and resources to the project, and the "Advisor" role provides advice and guidance.
The best RACI matrix alternative for you will depend on the exact needs of your project. RACI may be a good option if you need a simple and easy-to-understand tool. However, if you need a more complex tool that can handle multiple stakeholders and decision-makers, one of the other alternatives may be better.
Conclusion
In conclusion, a RACI matrix is valuable for clarifying roles and responsibilities within a project, process, or organization. It offers numerous advantages, such as providing clarity, improving coordination and communication, promoting accountability and ownership, facilitating conflict resolution, and enhancing resource allocation.
However, it's essential to be mindful of potential drawbacks, including the risk of overcomplication and rigidity, limited granularity, the need for regular maintenance and also updates, possible resistance or ambiguity, and the challenge of capturing the context and collaboration aspects.
To effectively leverage the benefits of a RACI matrix, it should implement thoughtfully, tailored to the exact needs of the project or organization, and also communicated clearly to all stakeholders. Regular review and also adaptation are necessary to ensure its ongoing relevance and effectiveness.
Using a RACI matrix appropriately allows project managers and teams to establish clear expectations, improve collaboration, and enhance overall project or process execution, ultimately leading to increased efficiency and successful outcomes.